March 2019 saw the beginning of our second D&D 5e adapatation, Abyss. Like the original, Out Of The Abyss, our version starts deep in the Underdark where a group of drow captives are slowly mining when an unexpected opportunity arises…
You can meet the characters here. Below is an brief overview of the tale by episode, or you can start listening on libsyn, youtube or via the linked episodes below. Additionally, you can hear how the adaptation process worked by becoming a Patron, the first episode is available free here.
Where Can i Find more from the Cast?
You can hear more from Wednesday as part of Dum Dum Die at:
@DumDumDie
Shiraz Can Be Found on Twitter at @DiceDeeds  & Instagram as @Shazworth
Find more from Dragon & Nikoli Right Here
@PenanceRPG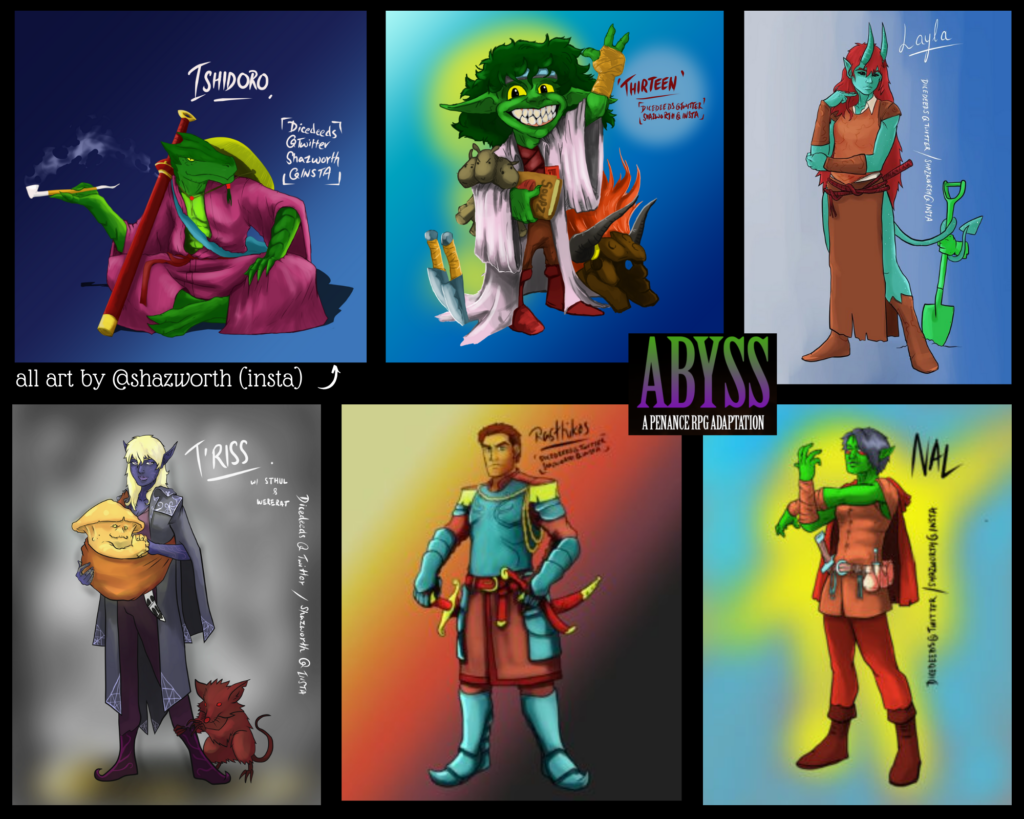 Eps. 0 & 1 Meeting the cast and then the characters
Ep. 2 Gracklstugh & meeting Lord Themberchaud
Ep. 3 Netherlight Grotto, something seems strange…
Eps. 4 & 5 Blingdonstone, meeting Erik & his tips about the Pudding King
Ep. 6 New & old friends
Ep. 7 A new tactic, escorting a scholar to Mantol Derith
Ep. 8 A creepy wedding
Ep. 9 All change in Gracklstugh Themberville
Ep. 10 Saving Araumycos
Ep. 11 An early terror exposed
Ep. 12 Plundering the slaver camp!
Ep. 13 Planning and a "Prophecy!"
Eps. 14 & 15 Into, and under, the labyrinth
Ep. 16 Off to bargain for a wyrm…
Eps. 17 & 18 Returns, retrenching and planning some more!
Ep. 19 A dramatic finale!
Ep. 20 Epilogues of survivors
Eps. 21, 22 & 23 Cast reflections & chat on eps 1-6, 7-13 & 14-20
Ep. 24 Outtakes, tangents & an original Drow lullaby!