Whether you're an existing patron, or considering helping us to make more of the content you love, we have incredible Patreon rewards on offer! Come and see what treasures lie within…
All Patrons ($1+) get access to our brand new Discord server as well as our eternal gratitude. By joining, you get the ability to chat to the cast and we hope to have monthly events too.
You can check out our full range on Patreon. Currently we are hoping to raise sufficient income to improve our accessibility by proving transcripts.
Abyssal Archives – Patreon Reward ($3+ tier)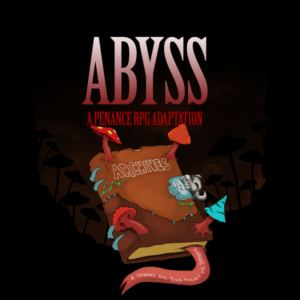 Support us on Patreon at the Favoured NPC tier ($3+) to gain access to our exclusive Abyssal Archives.
Within the Archives you can learn how Nikoli adapts the published D&D 5E adventure "Out Of The Abyss" to create a story that fits the Penance RPG style and pacing. A new vault is unlocked in the Archives every Friday, describing how the cast's approach to that week's episode differed from Nikoli's intent, and outlining the perils that await them in the week ahead.
A Bard's Tale – Patreon Reward ($5+ tier)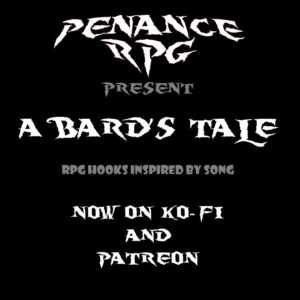 Support us on Patreon at the Bard's Tale tier ($5+), or buy us some tasty coffee on Ko-Fi, to get your own custom RPG hook or setting. When supporting, simply comment to suggest a song and artist to Nikoli and he will write you an RPG hook or story introduction based on the song! Bard's Tales hooks will usually have the feel of our actual-play adventures, but you're welcome to specify a style if you'd prefer something closer to your own stories.
We'll share every Bard's Tale with all our patrons by default. If you want to keep yours private (for example if you're intending to use it in a game) then send us a message on social media with your suggested song and artist and we'll send it to you there instead!
If you'd like to know more about either of these Patreon rewards, or you have any questions for us, you can contact us at Twitter, Facebook, or Instagram, or email us at [email protected]